About the Department of Psychiatry
The Department of Psychiatry at the University of Florida College of Medicine is one of the largest multifaceted psychiatry programs in the United States centered within a major academic health center. The Department of Psychiatry currently has approximately 70 faculty members, 40 residents and 15 fellows including child and adolescent, addiction medicine, community psychiatry, neuromodulation, and geriatric fellowships, with office settings in 10 facilities. Inpatient services have a total of 91 beds available and cover multiple specialties including addiction, adult, geriatric, child and adolescent, adolescent eating disorders and neuromodulation. A wide range of outpatient services are offered in several convenient locations and serve the entire age spectrum from preschool children to seniors.
---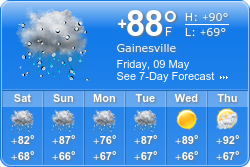 ---
University of Florida Human Resources for Applicants
About the University of Florida, Gainesville, Florida
The University of Florida College of Medicine, the largest of six colleges at the University of Florida Health Science Center, opened in 1956 with a mission to increase Florida's supply of highly qualified physicians, provide advanced health-care services to the citizens of Florida and foster discovery in health research. The College's Gainesville campus is comprised of 26 clinical and basic science departments staffed by nearly 1,000 faculty members. A patient care setting is provided to College of Medicine faculty and students by the University of Florida Health Physicians Group Practice, a close collaboration with UF Health, the Malcom Randall Veterans Affairs Medical Center, as well as several community healthcare sites and other affiliated hospitals in Florida. Visit the City of Gainesville Website http://cityofgainesville.org/community/aboutGainesville.aspx
---
Equal Employment Opportunity Statement
The University of Florida is committed to non-discrimination with respect to race, creed, color, religion, age, disability, sex, sexual orientation, gender identity and expression, marital status, national origin, political opinions or affiliations, genetic information and veteran status in all aspects of employment including recruitment, hiring, promotions, transfers, discipline, terminations, wage and salary administration, benefits, and training.
---